Big Deal!!!
Federal Judge Says Law Enforcement Can't Make You Hand Over Your Smartphone Passcode, Slate, Sep. 25, 2015
"Courts are increasingly having to grapple with the question of whether suspects should be compelled to unlock their phones for investigators. Adding to growing precedent, a federal judge in Pennsylvania said Wednesday that people cannot be forced to reveal passcodes, since that would violate the Fifth Amendment right against self-incrimination.
Note: Interestingly, Orin Kerr suggested that the court might be able to compel defendants to enter in their passcodes, rather than hand them over to the government. If a ruling comes down affirming that, that sort of makes passwords pointless, BUT, it would fall more in line with the "law enforcement can obtain the contents of your safe if you lock it with a key, because they can demand you turn over the key." It's actually a strange loophole in the law that law enforcement can obtain information behind a key but not behind a "code" (without using brute force, I mean). Of course, as a privacy advocate, I'm not complaining.
Your Gut Microbiome Could Put You at a Higher Risk of Asthma, Wire, Sep. 30, 2015
"Still, now that scientists can put a name (a cheesy acronym, even) to the bugs that help prevent asthma, they're looking to develop better ways to diagnose kids earlier—theoretically, parents could just check to see how much FLVR their wee ones have in their poop. Further down the line, [Stuart Turvey, a University of British Columbia pediatrician] says, scientists could even use FLVR to come up with a preventative treatment for asthma. "That would be huge.""
Oh No She Di-in't!
A New U.N. Report On Cyber Violence Against Women Has Set Off Another Battle Over Free Speech Online, Fusion, Sep. 30, 2015
"While the U.N. is right to call attention to the harassment women face online, the report is also evidence of the lack of urgency where women's online safety is concerned. The report is full of typos, incorrect footnotes, and footnotes that were never filled in at all. It embarrassingly cites a fringe magazine article from 2000 as evidence that "violent video games are turning children, mostly boys, into 'killing zombies.'" Worse, it lacks a nuanced and sophisticated understanding of the problems women face online as well as actionable suggestions for how to fix them."
Note: It's too bad that the typos, incorrect footnotes, and blank footnotes are what stood out. It is true, however, that "It took Hollywood sweetheart Jennifer Lawrence appearing on the cover of Vanity Fair after her nudes showed up online as part of the hack Reddit users deemed "The Fappening" for anyone to give revenge porn real attention." Let's fix this!!!
Australian Workplace Bullying Case Hinged On A Facebook Unfriending, Ars Technica, Sep. 26, 2015
"The Commission specifically cited the Facebook unfriending in its decision, saying that it "evince[d] a lack of emotional maturity and is indicative of unreasonable behaviour," then clarified the point by saying, "Mrs. Bird took the first opportunity to draw a line under the relationship with Ms. Roberts on 29 January 2015, when she removed her as a friend on Facebook, as she did not like Ms. Roberts and would prefer not to have to deal with her." . . . However, that unfriending incident was one of eight occasions that constituted "unreasonable behavior" at the workplace, meaning the FWC didn't necessarily rule that a coworker's Facebook deletion, in isolation, counted as an act of bullying by default."
Note: If I unfriend you, please don't sue me.
4Fun
Tesla's Model X Is Finally Here, And I Got To Drive It, The Verge, Sep. 29, 2015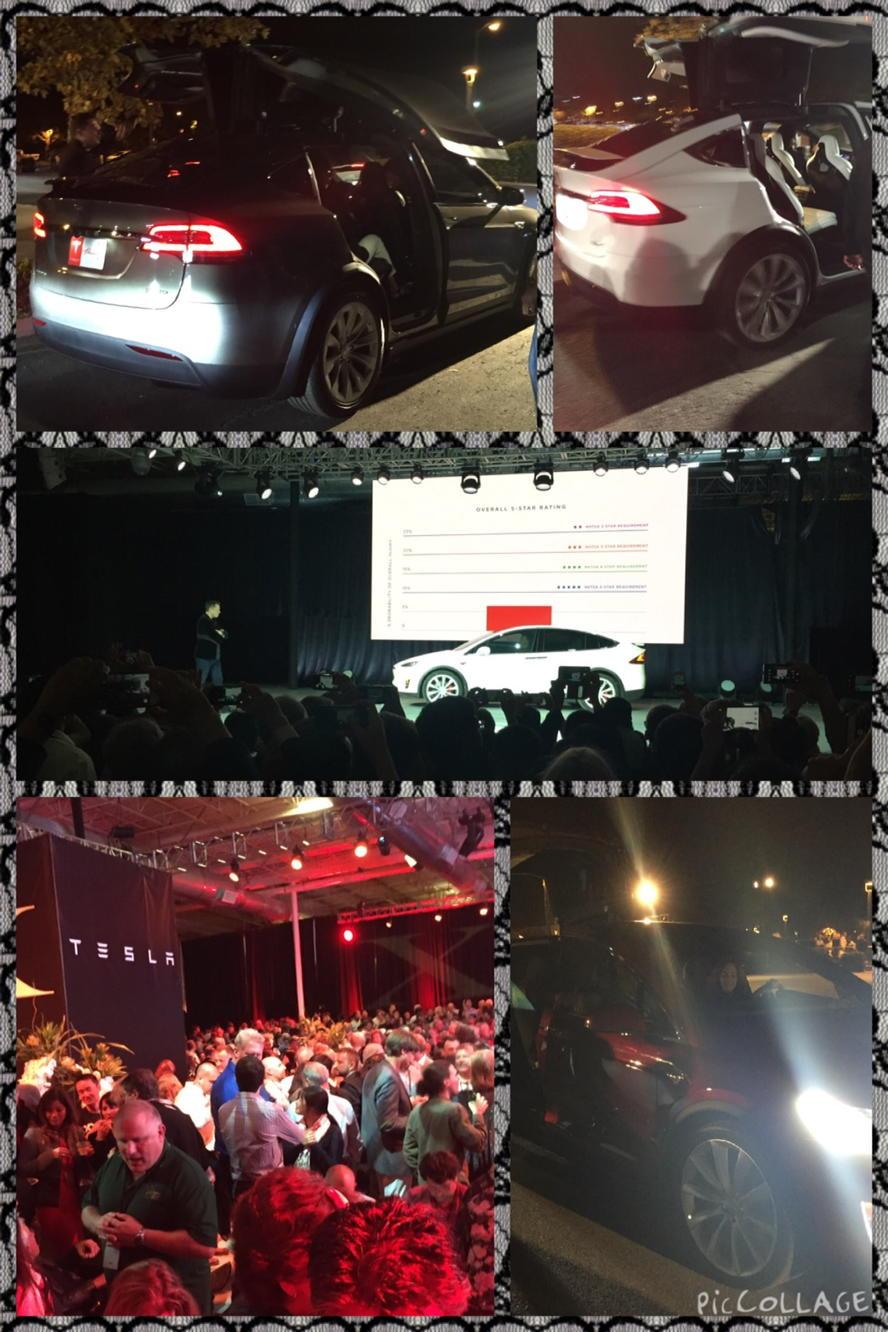 "I'm not sure anyone should make this car, really. I mean, yeah. There is far more there than is really necessary to sell a car," Musk says, trailing off. There is a genuine sense of introspection that maybe — just maybe — the Model X is over-engineered, that Tesla took on too much, and that's why this car is multiple years late to showroom floors."
Tesla Model X Launch: Elon Musk's One Regret About The Electric SUV, Slate, Sep 30, 2015
"The upshot is that Tesla has spent three years building a vehicle that does nothing to broaden the market for its vehicles beyond the ultra-luxury segment."
Note: My photo sources today don't write for The Verge, or any of the other sources I normally compile from. So their comments were more like "there were SO  many people!" and "all we got was a drive-by". But there was lots of oOo-ing and ah-ing from my end of the text message string.
What Amazon's Uber-Like Delivery Service Means For The Sharing Economy, The Washington Post, Sep. 30, 2015
"Flex, Amazon's new on-demand delivery service, promises to get your packages to you even sooner by hiring independent drivers to bring them to your house. As a lot of reports have pointed out, Flex is basically Uber for Amazon packages."
Note: Good. I was getting really tired of waiting a day for my packages ;P
These Scientists Are 'Living On Mars' For A Year, Fusion, Sep. 29, 2015
"This is a big week for everyone's favorite red planet. On Monday, NASA scientists revealed new evidence that liquid water is flowing on Mars. And Friday brings the premiere of Ridley Scott's latest film, The Martian, which follows Matt Damon's fight for survival as a stranded astronaut on the planet. Those obsessed with Mars though don't need to fix their eyes on the skies or the big screen for a taste of the planet. They can turn their gaze towards the Pacific Ocean where six scientists are already living out life as they would on the fourth planet from the sun."
Note: I am SO EXCITED!!!!
"How come aquaman can control whales? I mean whales are mammals. It doesn't even make sense."
0:48 – 0:58 😉
Also 2:51 – 3:01. "So no, I don't think the added pressure of being the 1st woman to command a mission to Mars is going to be too intense."